For the first time in 135 years, the tide now covers Leque Island twice a day.
Workers breached the aging dike surrounding 250 acres between Stanwood and Camano Island, allowing seawater at high tide to move all the way to Highway 532. The Leque Island restoration project — 15 years in the making — creates new saltwater marshes that provide habitat for young salmon and other wildlife, including birds.
"There have been so many twists and turns along the way," Loren Brokaw, restoration projects coordinator with the state Department of Fish and Wildlife, said Monday as he watched the incoming tide push inland. "It's kind of surreal we're to this point now."
The incoming water flows into channels dug two years ago during the first phase of the project, led by Fish and Wildlife. The channels snake through the former farmland and connect to Davis Slough, the existing channel marking the beginning of Camano.
The site will open to the public in about two weeks, featuring two kayak boat launches and a .75-mile trail atop a new, higher berm meant to protect Stanwood from large waves.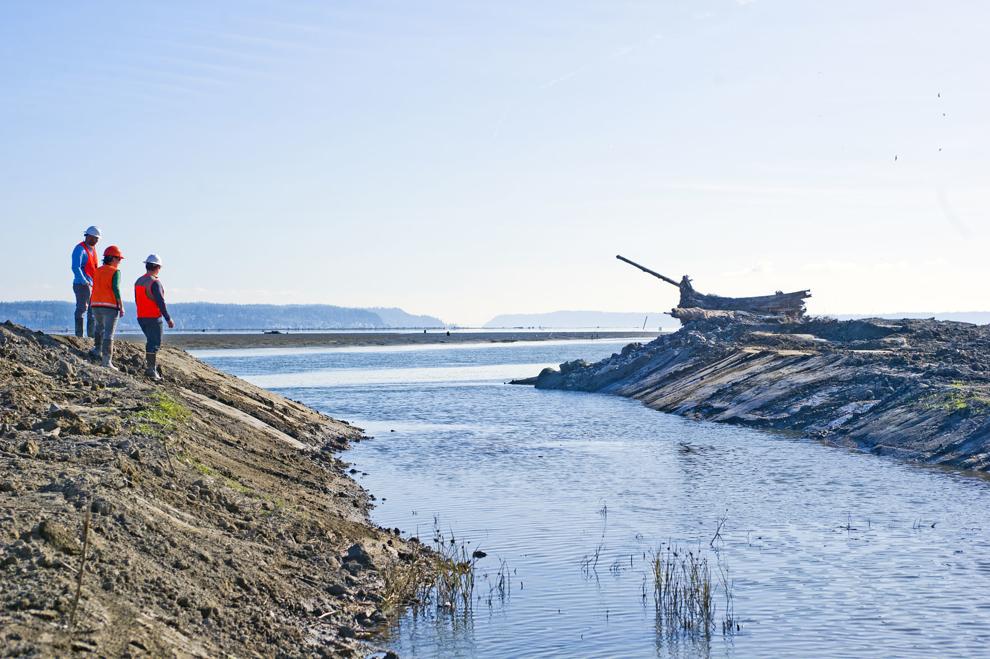 A mix of groups are helping are helping pay for the project, including Puget Sound Acquisition and Restoration Program, National Oceanographic and Atmospheric Administration, National Fish and Wildlife Foundation, Fish and Wildlife's Estuary and Salmon Restoration Program, Ducks Unlimited, The Nature Conservancy, Floodplains by Design, and state Department of Ecology and the U.S. Fish and Wildlife Service.
When reopened to the public, the land will be available to hunters.
"It'll be more of a cultural change for local hunters," said C.K. Eidem, regional biologist for Ducks Unlimited in Everett. "This will result in more birds, and that's a good thing. It'll be a change for hunters. Our members were split on this project. But we do things that make biological sense."
Brokaw said officials will monitor the site for years to come to gather data on wildlife changes.
"Our work is far from done here," he said.
The Leque project includes a new 17-car parking lot to access a new trail on the 15.5- foot high bern — about 5.5 feet higher than the previous dike. The berm is designed to survive a worst-case scenario event, such as a storm during a king tide.
The trail is accessed from a new parking lot off of Eide Road and will feature benches, interpretive signs and places to launch kayaks. The Davis Slough parking lot along Highway 532 will also feature access to a new kayak boat launch.