No lights. No scoreboard. No-good starting field position.
Time and time again, the Spartans overcame a litany of issues — many out of their control — to subdue the Oak Harbor Wildcats 42-20 and seize their first win of the season.
"You have to overcome adversity no matter what," head coach Jeff Scoma said about his message to the team. "And the kids did a really good job of getting refocused."
Due to winds gusting up to 63 mph on Whidbey Island, the game began without stadium lights in dwindling twilight filtered through quick-moving layers of dark gray clouds.
With the 7 p.m. kickoff ruled down at the 2-yard line, the Spartans embarked on a 98-yard drive that ended with a Michael Miscotti 15-yard touchdown pass to Joe Hader on fourth down at 7:41 p.m.
"I've never seen a drive like that before, but I thought it was pretty fun," said Hader, who was all smiles after hauling in his first TD.
In between stoppages for lighting issues and penalties, the opening drive featured a third-and-15 conversion and a fourth-and-1 pickup for the Spartans. Then the lights buzzed back to life and the energized Stanwood squad went to work.
"The first drive was the highlight of the night. Adversity, penalties, light issues. We overcame everything and went on a 12 play drive," Scoma said. "Everything about it was unique."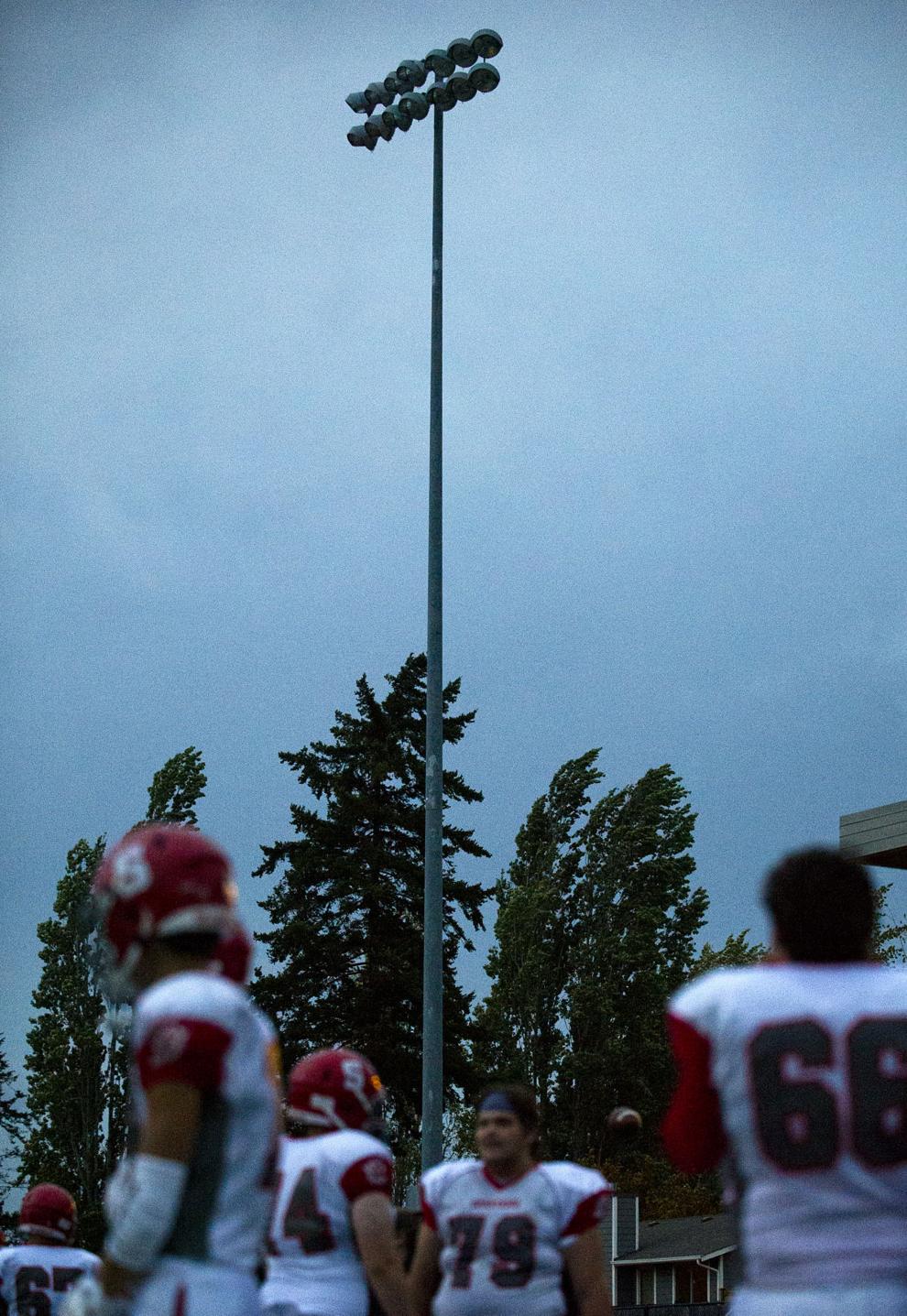 "I think that drive definitely set the tone for the rest of the game," the senior said. "It proved we were there to win."
The Spartan defense also rose to the challenge, stopping back-to-back Wildcat drives to open the game. But Oak Harbor mounted a scoring drive to equalize the game early in the second quarter.
Stanwood responded with a pair of methodical touchdown marches, one capped off by a 35-yard Bumgarner run and the other punctuated with a QB sneak.
With a 21-7 lead at half and rain starting to increase in intensity, the Spartans picked up where they left off in the third quarter. The defense forced a three-and-out, and then Ryder Bumgarner hauled in a 40-yard pass for a score.
"Our defense, especially in the first half, really stepped up," Bumgarner said. "And our offense is putting up points and yards. Michael Miscotti, our first-year QB, is stepping up. I think that throwing two touchdown passes in the rain really helped our confidence."
A field goal by Andrew Norton and a rushing TD by Cam O'Neill then pushed the Spartan lead to 36-7.
Oak Harbor responded with two quick scores made possible by an onside kick recovery, but it proved too little, too late.
The Spartans were able to drive down the field, bleed the clock and punch in another score — a Noah Grina run — to ice the game.
In all, the Spartans ran for 272 yards, led by Bumgarner (85 yards on 13 carries), Grina (77 yards on 10 carries) and Evan Agledal (72 yards on 11 carries). 
Through the air, Mascotti was 4-for-6 for 121 yards and two scores. Bumgarner had 57 yards on two catches and a score, and Tripp Loertscher had 50 yards from a pair of receptions.
"We're definitely improving each game and with repping it out at each practice," Bumgarner said.
Scoma said the offensive line is becoming more comfortable with the blocking schemes and nuances of the wing-T and the running backs are becoming more physical north-south runners.
"We just have to keep them focused on being physical and playing fast," Scoma said.
On defense, the Spartans collected 36 tackles, led by 5.5 from Agledal, 5 from Grina, 4.5 from Bumgarner, 4 from Logan Schweitzer and 4 from Isaiah Hughes.
Hader said Friday's win is a huge confidence booster.
"It showed our linemen they can win off the line," Hader said. "It's really important for linemen to have confidence they can do that. It allows us to establish the run game which opens up opportunities to score more."
The Spartans host rival Arlington on Friday in the annual Stilly Cup — a game Stanwood hasn't won in a decade.
"I think they're excited," Scoma said of the Spartans. "We just need to keep that energy up. Keep focusing on what we are doing."
Bumgarner added: "We're focused on getting the Stilly Cup back. We just have to keep firing on all cylinders."