With help from Stanwood graduate Madison Chisman, the Whatcom College women's basketball team captured the program's fourth-ever NWAC North Region Title — and first since 2007.
Chisman's 514 points this season were the second most in the 34-school Northwest Athletic Conference. The freshman is averaging a team-best 18.3 points per game on 72% shooting for the 21-8 Orcas, who clinched home court advantage for this week's NWAC tourney.
Since falling to Everett on Jan. 11, Chisman is averaging 22.4 points per game, and the Orcas are 11-1. She's also third in the league in offensive rebounds and has made the most free throws in the NWAC.
Taylor McCall, a 2019 Stanwood graduate, scored nine goals and had 12 assists on the ice for the 22-8-2 University of Providence (Great Falls, Montana) Argonauts. 
McCall and the upstart Argos — in their second year of existence — won the Mountain West Collegiate Hockey League Championship title 3-2 in overtime last month over top-seeded University of Mary. The No. 2-ranked Argos qualified for the National Tournament later this month.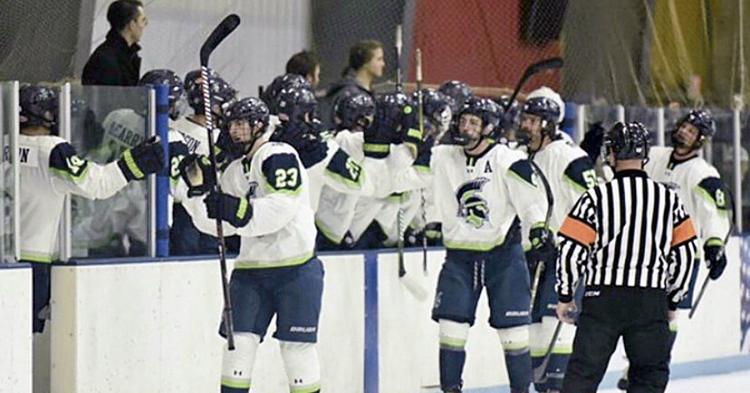 After redshirting as a sophomore last year, 2016 Spartan grad Madison Yerigan has been let loose for the Nebraska Cornhuskers and is already winning events. 
The junior recently won the women's high jump event Feb. 8 at the 45th Annual Frank Sevigne Husker Invitational, clearing the bar in a then-collegiate indoor best mark of 5 feet, 8.5 inches.
She placed at three indoor track and field events in February for the Cornhuskers.
On Saturday, Yerigan placed fourth at the Big Ten Indoor Track and Field Championships with a new personal best high jump of 5 feet, 9.25 inches. The NCAA indoor championships are March 13-14, and then the outdoor season starts the following week.
Mason Phillips, a redshirt freshman for the No. 7-ranked North Carolina Tarheels, has wrestled in four events this season at 157 pounds, compiling a 9-6 record. 
The 2018 Stanwood grad most recently went 2-2 at the Appalachian State Open on Jan. 25. Before that, he went 5-0 on Nov. 24 to win his weight class in the Tornado Open.
Haley Strowbridge banked home a game-winning layup Saturday in the Northwest Conference women's basketball title game against Whitman. The clutch bucket came with 2 seconds left to hand the Bruins a 57-55 win and an automatic bid to the NCAA III tournament.
Strowbridge, a 2015 Stanwood graduate, scored a game-high 20 points and is averaging 9.2 points per game as a starter for the 19-9 Bruins. The senior tied her season-high of 20 points that came on Feb. 15 against Whitworth. The Bruins finished the regular season with a 21-6 record, including 11-5 in conference play, as they advanced to the Northwest Conference tournament after winning 10 of their last 12 games. 
Isaac Olson, a 2016 Stanwood graduate, is off to a hot start for the George Fox Bruins. The 6-foot-2 senior pitcher is 1-0 and didn't allow a run in his first four appearances for the 9-2 Bruins. Last season, he boasted a 3.05 ERA in 25 appearances. 
Kaitlin Larson, a 2018 Spartan grad, is averaging 10.5 points for the No. 4-ranked Westmont University women's basketball team in California. The Warriors are 22-3 in NAIA play and are in first place in the Golden State Athletic Conference as they head into their conference tournament this week on a 12-game win streak. Larson is averaging 9.9 points per game and 7.4 rebounds a game. 
Pitcher Trey Tiffany, a 2017 Stanwood graduate, is 1-0 and hasn't allowed a run early in the Edmonds College baseball season.
AJ Martinka, a 2017 Stanwood graduate, appeared in one game this season for the Colorado men's basketball team — late in the Dec. 29 win over Iona where he grabbed a rebound and got an assist in the final two minutes. The Buffaloes are 13-4 this season.
Matt Vail, a 2018 Spartan graduate, has appeared in nine games totaling 13 minutes with one block and one rebound for the Seattle University men's basketball team. The Redhawks are 14-15 this season with two regular season games remaining until the WAC tournament.
Ashley Alter, a 2018 Spartan graduate, is averaging 8.3 points per game and started 19 games this season for the Seattle Pacific University Falcons, who are 8-20 on the year. The sophomore guard had five points in a game last week, pushing her past 300 for her career. Alter now has 302.
Editor's Note: This story has been updated to correct Ashley Alter's points per game and game starts.