It's not how you start; it's how you finish.
Trailing 13-0 late in the first quarter, the Spartans already had penalties negate a 60-yard touchdown pass and a pair of fourth-down conversions. They also had a player ejected. 
"We just stayed positive, kept hyping the team up, kept the energy up, never quit," senior defensive back and wideout Isaiah Hughes said after the game. 
The Spartans went on to score 35 unanswered points to top the Cascade Bruins 35-13 on Friday in front of a boisterous home crowd.
"It was great game planning, great adjustments," Hughes said. "It was great to see that we can overcome anything we put our minds to."
The team relied on a multipronged running game out of the wing-T to steal back and build momentum as the game progressed. Stanwood ran 44 times for 314 yards averaging 7.1 yards per carry, led by Ryder Bumgarner's 151 yards and three TDs on 20 carries. 
"The O-line played their best game of the year so far," head coach Jeff Scoma said. "Credit to those guys. We went double tight and played smashmouth Stanford-style football."
Scoma said he was impressed with his team's ability to stay focused in the face of adversity from a rash of penalties and two early successful drives by the Bruins.
"We did a really good job of making adjustments on defense," he said. "We also went more physical. We wanted to be the more aggressive team."
The misdirection of the wing-T also helped. Stanwood had eight different ball carriers in the game.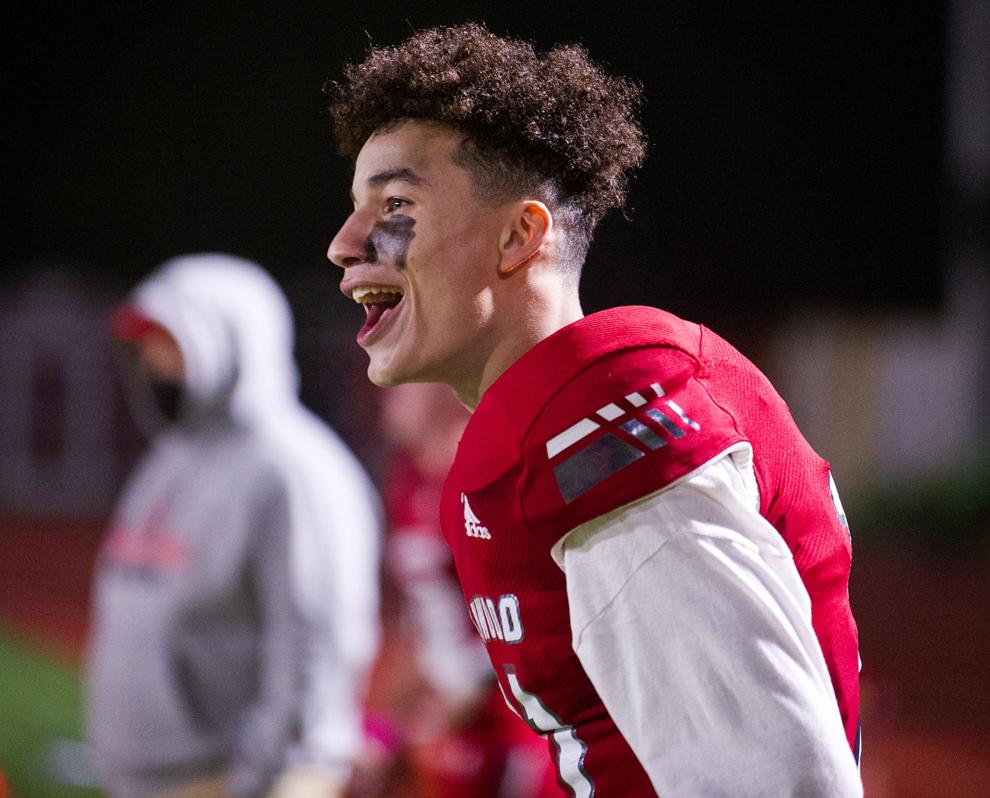 "We have lots of weapons, and if they sell out to stop Ryder (Bumgarner), (then) Otto (Wiedmann) and Carson (Beckt) and Noah (Grina) and others can get big chunk plays," Scoma said. "It's nice to have that versatility."
A 55-yard run to the 1-yard line by Wiedmann set up a QB sneak by Michael Mascotti to open the flood gates.
A Bumgarner interception then set up the Spartans in Bruin territory. Bumgarner then capped the short drive with a 4-yard TD.
On the ensuing kickoff, Caden Caldero recovered the ball that the Bruins were unable to control. The next play, Bumgarner ran it into the end zone from 20 yards out, giving the Spartans their second touchdown in a span of 18 seconds.
Stanwood, leading 23-13 at the half, picked up where they left off after the break with another Bumgarner scoring run from 5 yards out.
Then Hughes recovered a fumble and returned it for a touchdown, but it was called back due to a penalty — one of 13 on the night for the Spartans. No matter, Beckt scored a few minutes later on an 8-yard run.
Scoma said offensive linemen Mason Ferguson, Jake Myers and Jeremiah Johnson, Carter Kinney and tight ends J.T. McLaughlin and Tripp Loertscher have done phenomenal jobs — including center Nathan Guerra, who commonly sprints from the huddle to the line before each play.
"He's made a huge difference," Scoma said of the junior center. "He's playing at an all-conference level."
In addition to Bumgarner's big night, which included a 42-yard reception, the Spartans got 88 yards on five carries from Wiedmann, 34 yards on six carries from Beckt and 19 yards on three carries from Cameron O'Neill. 
On defense, Stanwood was also led by McLaughlin (1 tackles, 1 sack), Beckt (4 tackles, 1 tackle for a loss) and Grina (4 tackles).
The Spartans travel Friday to Blaine High to face Ferndale, which is playing elsewhere while its stadium and high school are under construction.
"It was great to see how resilient the kids were, but it's always better to not be in that position," Scoma said. "There are things we can work at in practice this week. We can also get more technical on blocking."
Hughes said he and his fellow teammates are focused on improving.
"I think each game we're getting better," he said.
Freshman football: Stanwood beat Marysville-Getchell 24-0 on Oct. 7 to improve to 4-0 on the season. The young Spartans have outscored opponents 148-26 so far this year. Stanwood hosts Cascade on Thursday.