Jetlynn Hau looked up at her teammates in shock after another blisteringly quick race.
"I was in disbelief," the Stanwood senior said.
Hau secured her second consecutive state title in the 100-yard breaststroke, capping her prep career with a personal-best time of 1 minute, 2.04 seconds at the 3A state championships Saturday in Federal Way. 
Her mark was the third-fastest time in 3A state meet history, and an All-American automatic qualifying time — meaning she's in the top 100 in the nation for that event, the first Spartan girl to earn the honor.
"When I first started swimming, breaststroke was my favorite. I thought it was the easiest," she said. "I think my body is made for breaststroke."
Hau's state surge started 24 hours earlier during the prelims when she posted an eye-popping time of 1:02.52 — about 2 seconds faster than the second-place finisher and a then-personal best time.
"I just wanted to go faster than the 1:04.44 I did at districts, but I did not expect to go that fast," Hau said. "I was really nervous the next day if that would be a one-time swim. I had to keep telling myself that I could do it. I don't want doubt to stop me."
Turns out nothing could stop Hau from etching her name in the Stanwood record books.
It was her fourth time standing on the state podium. She collected third-place state medals in the breaststroke as a freshman and sophomore before taking back-to-back crowns — the first individual girls swimming state titles in program history.
Hau also took fourth place in the 200 individual medley with a personal-best time of 2:08.66, edging fifth place by four-hundredths of a second.
"She kept her head down and didn't take a breath," head coach Rita Peterson said. "That was the difference."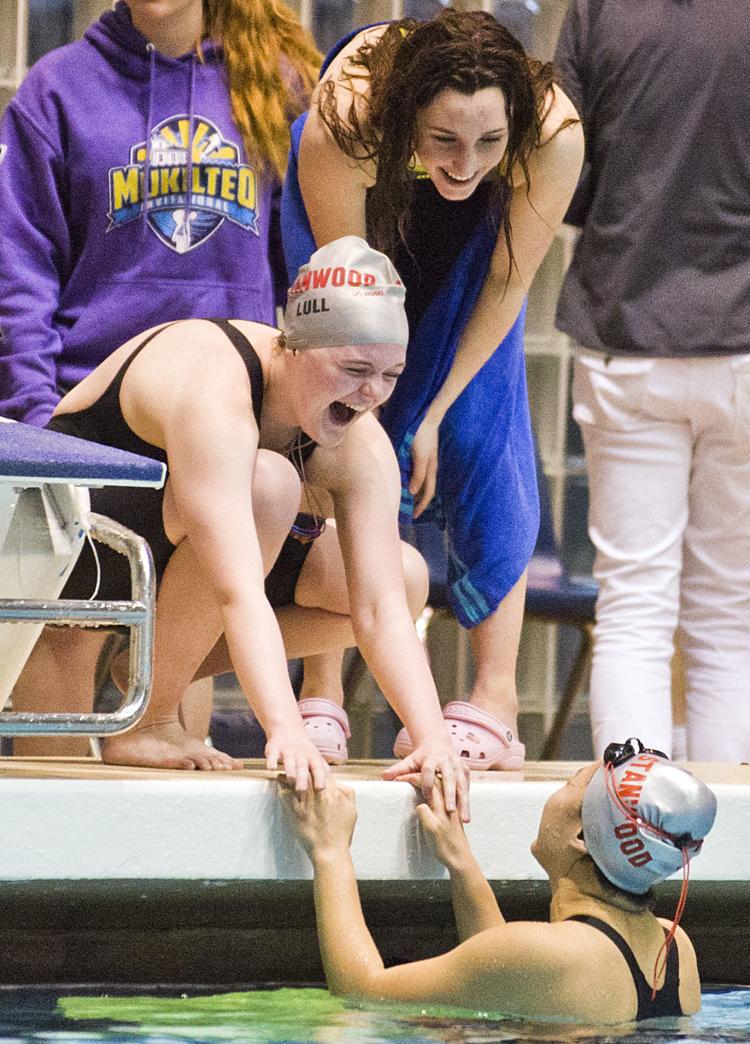 Hau's fourth place improves upon a pair of seventh-place finishes in the event each of the last two seasons, but she wasn't the only Spartan to make waves at the state meet.
Stanwood's 200 yard freestyle relay placed 14th in state with a school-record time of 1 minute, 42.66 seconds.
"That will be a tough record to break," Peterson said. "That's not going to fall anytime soon."
Spartan junior Anna Veazey led off the relay with a school-record 50-yard time of 25.15 seconds, 0.15 seconds faster than the previous school mark and 0.4 seconds faster than her previous personal best.
"It may not sound like much, but that's a big time drop in this event," Peterson said. "To have a school record leading off the relay is really incredible. The teammates knew it and were jazzed."
Sarah Schmidt followed with a personal best 26.89-second leg and Olivia Hering then added a personal best 25.63-second leg before Hau finished the record-setting race.
The relay entered the finals after placing 16th during the prelims a day before. Also during prelims, Veazey placed 19th in the 100 yard butterfly with a time of 1 minute, 1.96 seconds; and the 400 yard freestyle relay of Lauren Brager, Schmidt, Hanna Lull and Aleena Wiegand finished 21st in 4:03.03. The 400 relay team beat their district time by more than half a second, and Lull completed her leg in less than a minute for a personal best 59.49.
"It ended exactly the way we wanted to," Peterson said. "We knew we were bringing back top athletes, and we knew we had some strong relays. I'm excited for the girls, they worked really hard, they deserved to be there and they all got best times."
Hau, who swims year round and plans to swim at the college level next year, said the tight bond between the girls fueled the team's success.
"I love high school swimming — not just going to state, I love it because of the people, the coaches and the whole environment," the seven-time individual state medalist said. "I love the girls, and the close friendship we have.
"There have been funny moments, intense moments, stressful moments," Hau said, "but this team has been incredible."
Stanwood senior Jetlynn Hau claims her second consecutive 3A 100 breaststroke state title with an All-American automatic qualifying time of 1:02.04, which ranks third-fastest in 3A state meet history.

Hau also placed fourth in the 200 IM. pic.twitter.com/fJd7YzXuha

— Cameron Van Til (@CameronVanTil) November 17, 2019