Four more Spartan athletes have announced commitments to play sports at the collegiate level, joining six others who have already signed at universities.
The four, who signed their letters of intent at a ceremony last week at Stanwood High, include:
Ava Cook, who will play basketball at Pacific University in Oregon
Aliya Hammons, who will wrestle at Grays Harbor College
Lili Jones, who will join the track and field team at Concordia University Irvine in California
Olivia Rueckert, who will play volleyball at University of La Verne in California
The Spartans join those who have already declared, including:
Leia Jones,cross country and track and field, Azusa Pacific University
Kaeden McGlothin, basketball, Dordt University
Griffin Satterfield, men's volleyball, Ball State University
Emma Floyd, women's basketball, Willamette University
Mack Hepper, men's basketball, Pacific Lutheran University
Kanyan Rhodes, men's lacrosse, Colorado Mesa University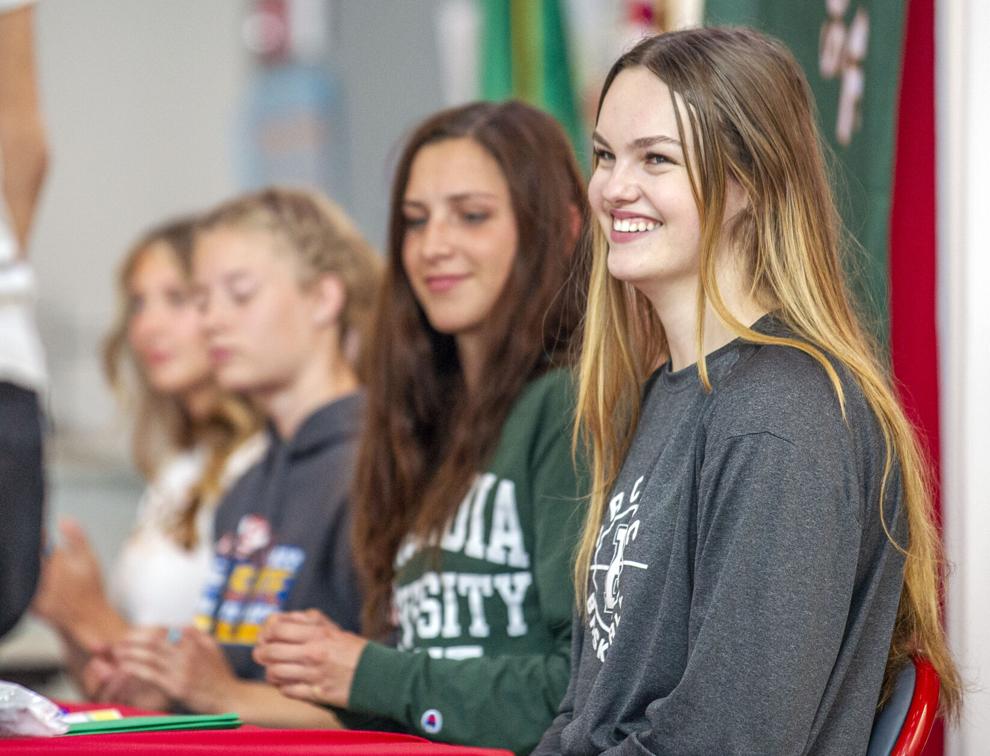 Preston Pierce posted an 4.32 ERA in 16.2 innings over eight appearances for the Allegheny College Gators in Pennsylvania. The 2020 Stanwood grad earned a pair of saves and struck out 24 for the 24-14 Gators this season.
Anna Schander posted several top-5 finishes this year in track and field for the Montana State Bobcats. The 2021 Spartan grad flung the discus a season-best 43.33 meters on May 7 at the Tom Gage Classic to claim fifth place. The freshman also does the shot put, weight throw and hammer throw.
Saylor Anderson, a senior track and field athlete at Whitworth University in Spokane, has posted several top-10 javelin throws this season. The 2018 Stanwood graduate heaved the javelin a season-best 35.53 meters in late March at the Buc Scoring Meet to claim third place.
Madison Yerigan, a 2016 Spartan grad, placed fifth with a clearance of 1.76 meters in the high jump at the Big Ten Outdoor Championships. The senior at Nebraska University also won the Billy Hayes Invite with a personal-best height of 1.79 meters. She competed last week in the NCAA West Preliminary Round in Fayetteville, Arkansas.
Wyatt Tayon, a 2019 Stanwood graduate, posted several top-5 finishes this season for the Pacific Lutheran University track and field team. The sophomore collected season-best marks in the shot put (third place, 14.59 meters) and hammer throw (42.63 meters) May 7 at the Linfield Open. On April 30 at the WWU Ralph Vernacchia Invitational in Bellingham, he flung the discus a season-best 43.25 meters to claim fifth place.
Gabe Heckman posted several top-10 results in throws for the Eastern Oregon University track and field team. The 2020 Stanwood alum flung the discus a season-best 42.1 meters April 22 at the Eastern Oregon Open to claim fourth place. He also tossed the hammer a season-best 37.47 meters for seventh place at the Lewis & Clark on April 16.
Trey Tiffany, a 2017 Spartan grad, pitched 13.1 innings in 10 relief appearances for the Longwood University Lancers (20-33) in North Carolina. The right-handed pitcher went 1-0 with 15 strikeouts while posting a 6.08 ERA this season.
Lukas Sepulveda clocked season bests in the 100- and 200-meter dashes in late April for Valparaiso University in Indiana. The 2019 Stanwood alum, ran the 100 in 11.41 seconds to earn sixth place and ran the 200 in 23.07 seconds to claim fifth place at the Valparaiso Beacan Invite.
Darren Smith, a 2021 Spartan grad, wrapped up his freshman campaign with College of Idaho's baseball team. He saw limited action in five games for the Yotes (30-27).
---
Send college sports information about current and former Stanwood High athletes to editor Evan Caldwell at ecaldwell@scnews.com to be considered for future College Report articles.