Maya Macdonald senses that the Spartans have gotten off on the right foot.
"We're getting good through balls, good crosses," the senior forward said. "We just have to finish."
Stanwood kicked off their season with a pair of 1-0 wins before dropping a home matchup to Snohomish 3-0 on Saturday.
Hannah West scored the lone goal in the opener Sept. 7 at Bellingham on a corner kick from Ashley Sellers. 
Two days later hosting Everett, West again scored on a corner kick, this time from the foot of Macdonald.
"Hannah was able to poke it by the keeper again," head coach Lori Stunz said of the senior midfielder. 
Then on Saturday, the Spartans put together a handful of clever attacks on goal but were just off-target, eventually falling 3-0 to Snohomish. 
"We just couldn't find the back of the net," Stunz said. "It was a very slow-paced game. No sense of urgency. We weren't successful stringing passes together."
Despite the sluggish play, the Spartans conjured up a few opportunities in the box, but the headers and one-touches either found the keeper's hands or the crossbars.
"We're very heavy on the front side of things, we're trying to keep pressure on the opponents' backline," Stunz said. "Both of our goals came because we were pressing high."
However, she said, that strategy comes with the need for lots of discipline on our back end because that can leave a lot of space in a transition. 
On Saturday, the Spartans trailed at half 1-0, but surrendered a pair of Panther goals within minutes of each on transitions.
The Spartans will seek to rebound Tuesday when they host Cedarcrest before traveling to Shorewood on Thursday.
Stunz said sophomore keeper Madison Reis-Elbara is off to a good start with a pair of shutouts and junior Maggie Flickner has brought "great energy and deceiving speed" so far.  
"The biggest thing is that we need to be consistent," Stunz said, adding that she'll be leaning on the team's 11 seniors such as Macdonald.
"Maya (Macdonald) leads with this quiet presence," Stunz said. "She's pretty dynamic when she's on."
Macdonald added that they plan to make the most their senior season after experiencing a COVID-shortened year.
"We're excited," she said. 
Volleyball
The Spartans are proving more than capable of making key adjustments.
Stanwood volleyball opened the season with a 3-1 victory over Oak Harbor on their home court.
After surrendering a long run in the opening set and dropping their first set, the Spartans reset, refocused and settled in to control the rest of the game, winning 19-25, 25-14, 25-12, 25-14.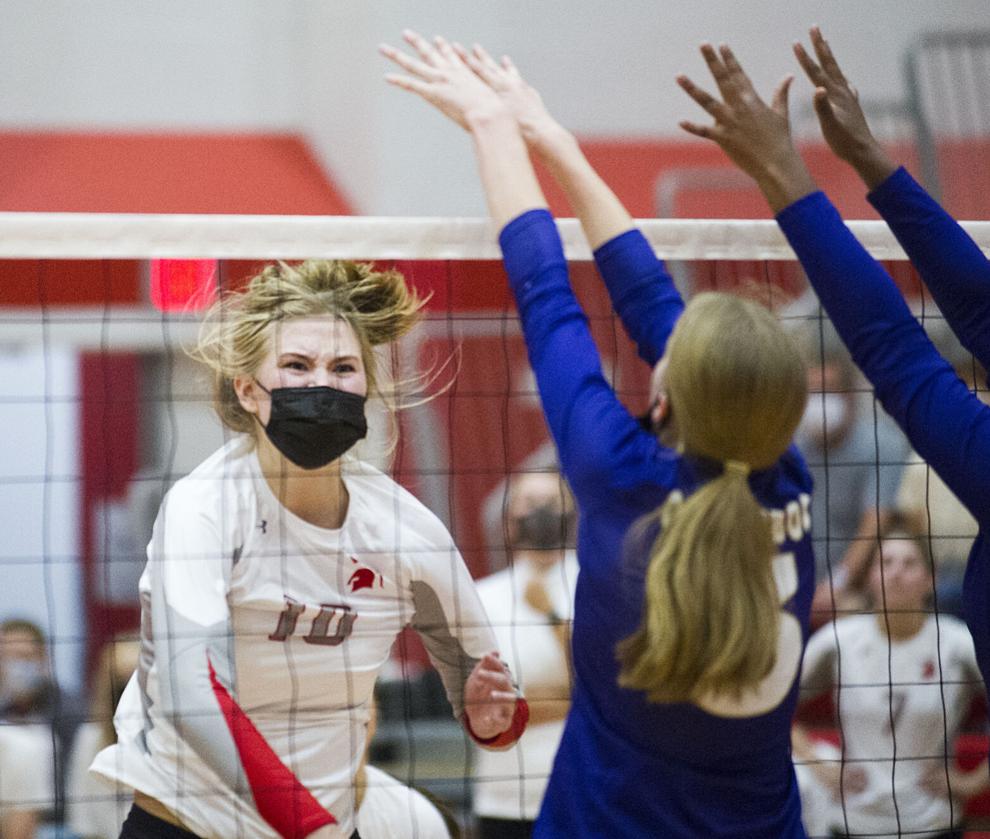 "There were definitely some nerves in that first set," head coach Megan Amundson said. "And I think we backed off the gas pedal." 
But it proved no more than a speed bump to this experienced, senior-laden team. 
The Spartans were led by Barrett Anderson (17 kills, 12 digs), Grace Henken (10 aces, 29 assists), Emma Floyd (8 kills), Baylor Hezel (12 digs), Cailyn Conley (4 kills, 5 blocks) and Karli Neigemann (12 digs).
Stanwood then hit the road to attend the 16-team Cloud 9 Volleyball Classic Tournament on Sept. 10-11.
Stanwood finished first in pool play, earning byes into the bracket where they lost to eventual champion Graham-Kapowsin. 
"(The tournament) was good for us. We saw different types of teams: Teams that were not flashy but made no errors … but we also saw teams with really big hitters and a faster pace of play," Amuindson said. "We were able to play well against lots of styles."
The Spartans travel Tuesday to Cedarcrest and host Shorewood on Thursday.
Cross country
Leia Jones is off to a fast start. 
The senior finished first in the opening meet last week and then finished in third place during the 32-team Sehome Invite in Bellingham on Saturday.
"That is college-caliber running right there," head coach Mike Evans said of Jones, who finished 0.64 seconds behind the second-place finisher. "For 2 miles straight, they were shoulder-to-shoulder, it was a great race." 
Jones ran the 2-mile course in 12:12.75 to claim third place in a race featuring only seniors.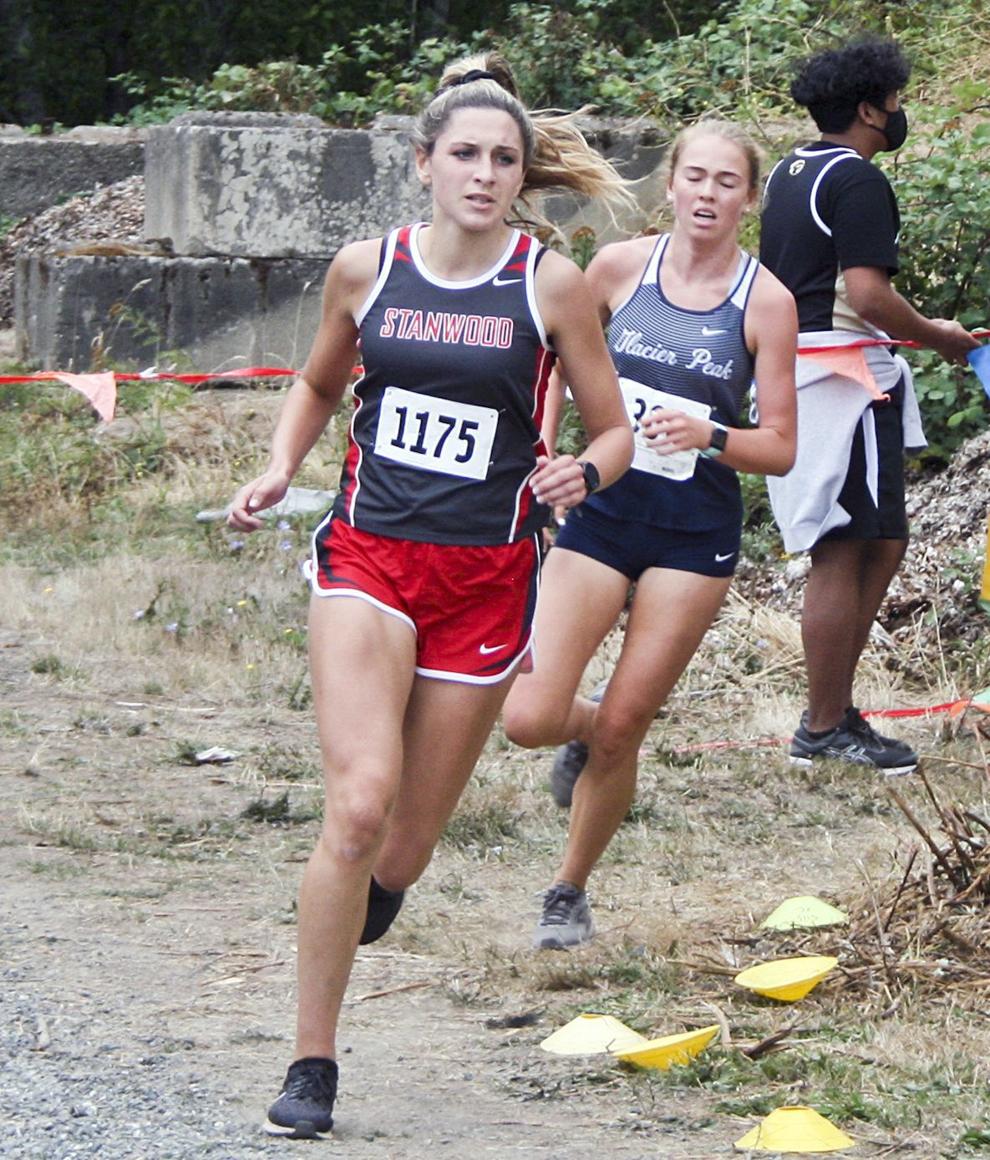 Wouter Van Veen led the Spartan senior boys with a 20th-place finish in 11:19.77.
"Van Veen, stuck his nose right in that fight," Evans said. "He was up there with the top seven for the first part of the race before fading a bit. But now he knows what to do to get better, and I think he'll get there." 
On Sept. 8, the boys and girls teams placed second in a three-team meet on a 2.3-mile course at the Strawberry Fields Athletic Complex in Marysville. Both Spartan teams trailed Shorewood but bested Marysville-Getchell.
The girls were led by Jones (1st, 14:37), Lael ten Hoopen (4th, 16:16) and Aubree Carr (6th, 16:55).
The boys were led by Van Veen (3rd, 13:37), Mac Martin (5th, 13:55) and Ryker Belles (10th, 14:36).
"What I like about this team is that they are starting to figure out how to be a team," Evans said. "They're really coming together." 
The Spartans have their lone home meet Wednesday, a 2-mile course near the stadium at Stanwood High. The meet will feature a pair of 4A schools: Glacier Peak and Mariner. 
Boys tennis
The Spartans followed up a opening-season loss to 4A perennial power Lake Stevens with a dominant sweep of Marysville-Pilchuck.
"Everyone just played really confidently and won in decisive fashion," head coach Ryan Ingram said of the 7-0 win at Marysville-Pilchuck on Sept. 9.
Two days prior, the Spartans fell 6-1 to the Vikings, but played a lot of close matches, Ingram said. 
The Spartans now are in the midst of four matches in eight days. They traveled to Glacier Peak on Monday, host Archbishop Murphy on Wednesday, host Mountlake Terrace on Friday and travel to Everett on Sept. 20.
Sept. 7: Lake Stevens 6, Stanwood 1: Singles: Dillon Wells (LS) def. Morgan Zill (S) 6-4, 6-1; Rett Stevens (LS) def. Brandt Gilbertson (S) 7-5, 6-1; Everett Deleon (LS) def. Blake Reid (S) 6-2, 6-2; Max Hein (LS) 6-4, 6-0. Doubles: Dane Stedge and Dakota Bair (LS) def. Connor Wickstrom and Cam Bailey (S) 6-2,6-2; Ayden Medina and Ethan Eichler (S) def. Kevin Morton and Asher Lawson (LS) 6-2, 6-4; Andrew Hein and Miguel Valles (LS) def. Ben Weseman and Max Mullen (S) 6-3, 6-1.
Sept. 9: Stanwood 7, Marysville-Pilchuck 0. Singles: Morgan Zill (S) def. Ethan Alberts (MP) 6-0, 6-0; Brandt Gilbertson (S) def. Cole Davis (MP) 6-0, 6-0; Blake Reid (S) def. Daniel Calle (MP) 6-1, 6-6; Ben Weseman (S) wins via forfeit. Doubles: Connor Wickstrom and Cam Bailey (S) def. Owen Davis and Gabriel Bradley (MP) 6-0, 6-0; Ayden Medina and Ethan Eichler (S) def. Denton Collins and John Cerrillo (MP) 6-0, 6-0; Adam Link and Max Mullen (S) def. Terrance Johnson and Sebastian Gomez (MP) 6-0, 6-0.
Girls swimming
The Spartans travel Tuesday to Glacier Peak for their season-opener before returning home Thursday to the Stanwood Camano YMCA to host Archbishop Murphy.