These Spartan athletes are poised to be the first crop to reap the rewards of the recent high school construction.
A new field awaits the football and girls soccer team, and two new courts are coming for the boys tennis team.
And in between is a newly renovated — and larger — fieldhouse with new locker rooms, bathrooms and concession area.
So, to help keep track of the teams using the new facilities, here's a brief primer on the Stanwood fall sports: players, coaches and season outlooks.
Boys tennis
Head coach: Sean Cunningham, 3rd season 
2018 record: 8-6; 2nd in Wesco 3A North
Returners: Shintaro Wilcox, sr.; Preston Pierce, sr.; Kade Getzinger, sr.; Huston Rawls, so.; Cody Vail, jr.; Chase Larkin, jr.
Newcomers: Morgan Zill, fr.
Outlook: The Spartans will be strong in singles action and will feature balanced doubles teams, head coach Sean Cunningham said. "Our hope is to advance a few players to state," he said. "We have the talent." They just don't have the courts to play on right now. The Spartans have been practicing in Arlington while they wait for construction crews to finish working on their home courts — including the addition of two new courts.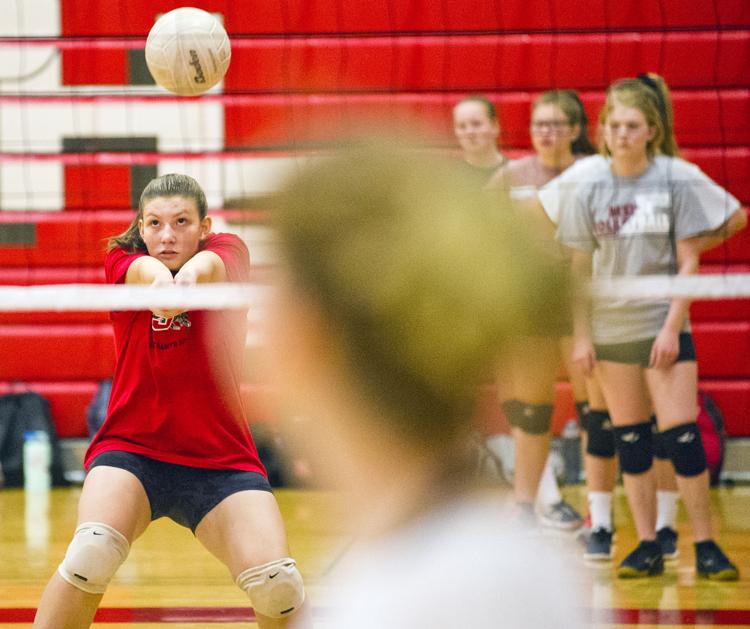 Volleyball
Head Coach: Megan Amundson, 5th season
2018 Season Record: 12-2 in league, 15-5 overall; 1-2 at state tournament
Returners: Madison Morgan, sr.; Gabby Hoidal, sr.
Newcomers: Lots. Of the 47 to turn out for the team, 40 are either freshmen or sophomores.
Outlook: While relatively young, this group still has a potent mix of talent, height and experience. Some of the sophomores were brought up as freshmen last season to experience the postseason, and they "showed their skill both in practice and in matches," head coach Megan Amundson. "They are ready to take on some roles." Seniors Madison Morgan and Gabby Hoidal return from season-ending injuries experienced last year and are ready to fill key leadership roles.
Cross country
Head coach: Jordan Sneva, 11th season
Returners: Charlotte Bentz, Rylee Masonholder, Katie Miller, Gabrille Green, Maddy Hepper, Shaye Martin, Jason Khoury, Wout Van Veen, Nelson Goosman.
Newcomers: Lael Ten Hoopen, Miles Standish, Jarod Angeles, Owen Palmer, Malcolm Childs, Matthew Brennan, Jake Daniels, Kayla Johnson, Aubree Carr.
Outlook: A large group of returning runners and a promising crop of fresh legs hope to work toward state berths starting Sept. 11 in Arlington and building to the regular season finale Oct. 17 at a to-be-determined location on Camano Island. They are all students of running, head coach Jordan Sneva said. "Very positive group of kids," he said. "They want to run and learn how to get better at 5K racing — and the training that is associated with it." 
Girls swim
Head coach: Rita Peterson, 15th season
Last season: 2nd in Wesco; Jetlynn Hau won state title in 100 meter breaststroke.
Returners: Jetlynn Hau, Anna Veazey, Aleena Wiegand, Lauren Brager, Hannah Lull, Olivia Hering, Sarah Schmidt, Rylee Stulller and Frances Zoloth.
Newcomers: Ella Hess, Ellie Fongemie and Nicole Surdyk.
Outlook: "We had an incredible 2018 swim season," said coach Rita Peterson about the 10 Spartans who advanced to the state meet, "but I know that the 2019 season will be even better." Senior Jetlynn Hau is looking to defend her 100 meter breaststroke state title, and several girls committed to swimming in the offseason, Peterson said. "We have an awesome group of newcomers who have made big strides after just one week of practice," she added. The team broke  several school records last season, but "I'm expecting this team to do even better," she said of her experienced squad (every senior has been with the program since they were freshmen). Keep your eye on newcomer Ella Hess, Peterson said. "We expect to see her in the 200 IM, 100 backstroke and 100 breaststroke."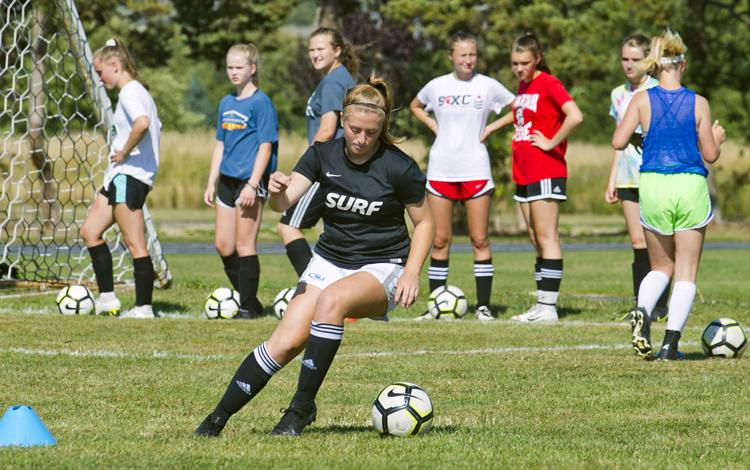 Girls soccer
Head Coach: Lori Stunz, 13th Season
2018 Season: 8-10 overall; advanced to district tournament
Returners: Paige Almanza, so.; Hailey Ovenell, sr.; Rachel Russell, jr.; Maya MacDonald, so.; Bethany VanSant, sr.; Ashley Sellers, so.; Camille Nielsen, sr.; Shelby Lund, sr.; Hannah West, so.; Lauryn Anderson, jr.; Lucy Soriano-Sanchez, jr.; Emma Wheeler, so.; Madeline Larson, jr.; Emmalee Murry, so.; Emily Molstad, jr.
Newcomers: Kiley McCall, Natalie Alexander, Ainsley Allen, Hazel Johnson, Katelyn McCoy, Mali Stogner, Jaidynn MacDonald, Ana Marriott, Quinn Weller, Graysen James
Outlook: After practicing on Stanwood Middle School's fields, these Spartans will hold the distinction of the first team to play a game (Sept. 10) on the new field — a cork-filled FieldTurf surface — in the high school stadium. The experienced group — led by seniors Hailey Ovenell, Camille Nielsen and Bethany VanSant — hopes to build on a trip to the postseason while learning the new surface to properly extract any home-field advantages. Meanwhile, with a growing number turning out for soccer (53 this year), head coach Lori Stunz was able to add a C-team this year — led by coach Keely (Hanson) Cowan, who played for the Spartans in the early 2000s. "With running a no-cut program we have a place for freshman and sophomores to play and get more experience," she said. 
---
See Spartan fall sports schedules here.