Soon after Jeff Scoma took over as head coach in June, he started cold calling potential players.
"I spent a lot of time on the phone, calling and texting, trying to meet and get connected with kids to tell them about what we're trying to build," Scoma said. "It's kind of been a part-time job getting more kids to come play." 
The effort is paying off. There are 54 varsity players and 34 on the C-team — both increases from recent years.
"We're excited," said Carson Beckt, a junior running back and linebacker. "We want a winning season. ... It'll take everyone committed — on the field and in the classroom — and working hard every day, but I think we're ready."
Beckt said the new coaching staff has made a point this summer to meet one-on-one with each player, which helped build relationships and an understanding of the new offensive and defensive schemes.
Scoma comes to the Spartans after a year at La Conner, a 2B school where he led the Braves to a 4-1 record this spring. Prior to La Conner, he coached six seasons of youth football in Bellevue and served as the freshman/junior-varsity coach and assistant varsity coach at perennial state power Bellevue High.
"We're trying to build a perennial state tournament team," Scoma said. "And that starts with commitment — on the field and in life."
Under Scoma, who will also serve as the offensive coordinator, expect the Spartans to run a version of the wing-T offense.
"Hopefully you won't be able to see where the ball is," he said. "Lots of misdirection. That's the plan."
The defense will be similar to past years, Scoma said.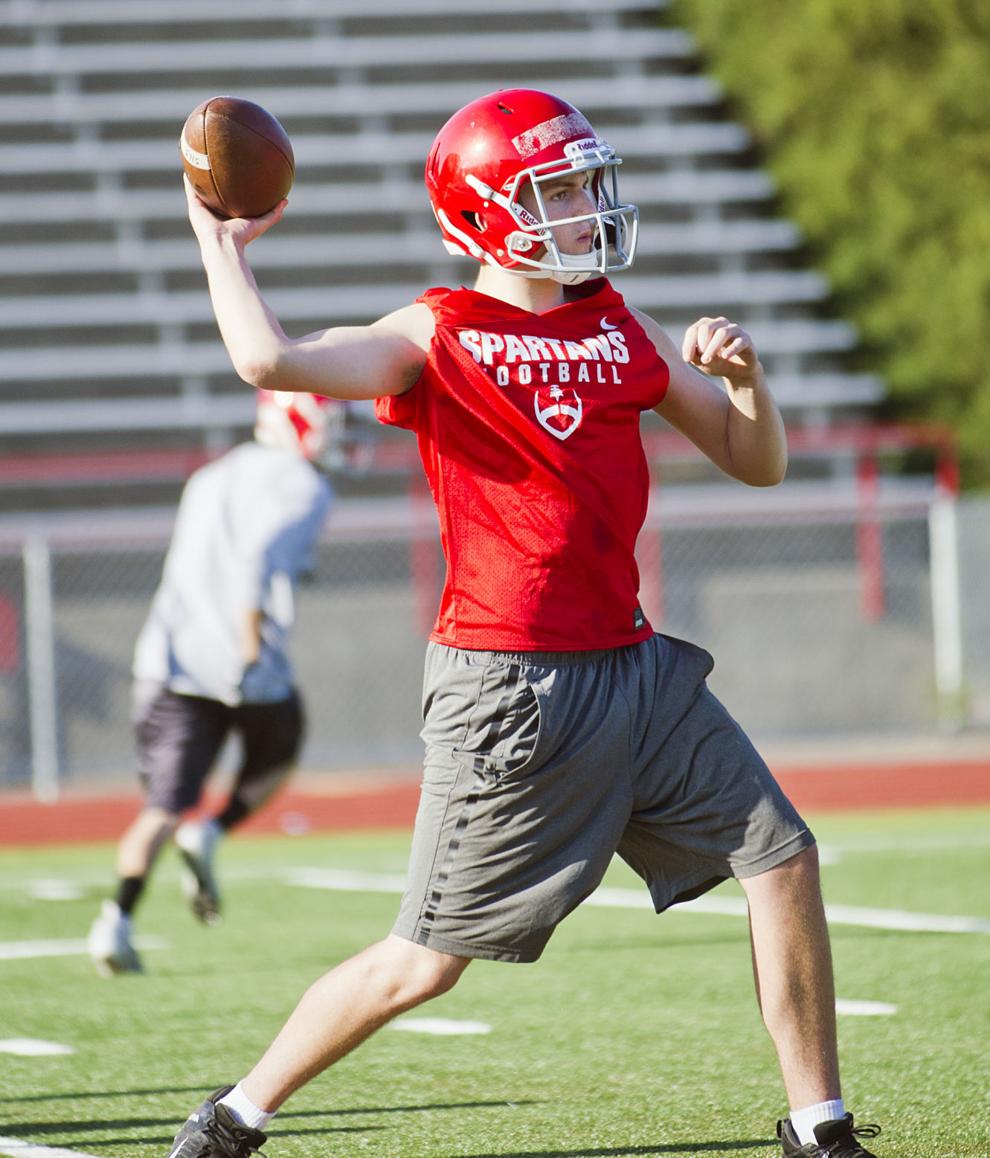 "We'll have some twists and variations, but we want to play fundamental defense and keep the ball in front of us," he said. 
Beckt said that while last spring's COVID-shortened season wasn't ideal, it did offer an opportunity for many of the now-varsity players to gain valuable gameday experience.
"I'm just so excited to have a full season," he said.
The Spartans will put the new playbook to the test Friday when they travel to 4A Kamiak for the season opener.
"From what we've seen so far, they've picked it up and they've been committed," Scoma said of the Spartans. "We have the talent to compete."
Stanwood Football
Head Coach: Jeff Scoma, 1st season
2020-21 Record: 1-2  
Returners: Joe Hader (CB/WR), Evan Agledal (RB/LB), Logan Schweitzer (DB/WR), Isaiah Hughes (WR/CB), Ryder Bumgarner (RB/WR/S), Carson Beckt (RB/LB), Noah Grina (RB/LB), Nathan Guerra (C/DL), Draydin McDonald (OL/DL), JT McLaughlin (DE/TE), Cam O'Neill (S), Otto Wiedmann (LB) and Mason Ferguson (LB/OL).
Newcomers to keep an eye on: Logan Nordin (OL/DL), Luis Robledo (OL/DL), Jeremiah Johnson (OL/LB), Tripp Loertscher (TE) and Jake Myers (LB/OL/RB)
What to watch for: The ball. A wing-T offense typically has four players in the backfield and sends players in motion to try and confuse a defense. A version of this offense is used by perennial state contender Bellevue. New head coach Scoma, who was an assistant at Bellevue, said he believes the Spartans can use it to post their first winning season in 14 years. After the Spartans debut their offense in Week 1, how they adjust in Week 2 against Marysville-Pilchuck could be a telling barometer for the season.
Spartan football schedule
At Kamiak, 5 p.m., Sept. 3 
Vs Marysville-Pilchuck, 7 p.m., Sept. 10
At Oak Harbor, 7 p.m., Sept 17
Vs Arlington, 7 p.m., Sept 24
Vs Marysville-Getchell, 7 p.m., Oct 1
Vs Cascade, 7 p.m., Oct. 8
At Ferndale, 7 p.m., Oct. 15 (game at Blaine High, 1055 H St., Blaine)
At Mount Vernon, 7 p.m., Oct. 22
Follow along
Listen to (and possibly watch) games at TCSNsports.com
Follow reporter Evan Caldwell on Twitter at @Evan_SCN for game updates when possible