Michael Mascotti stepped up into pressure, searching for an open Spartan on a crucial fourth-and-7.
The junior quarterback's eyes scanned the field for his two potential targets. 
Tripp Loertscher, his first read, was covered. So was Otto Wiedmann, his second option. 
"I looked back at Tripp, and he was open," Mascotti said of the completion that sent the Spartans deeper into the playoffs for the first time in a quarter-century. "In the moment, I wasn't really thinking about it securing the win. It hit me later." 
Though it was a pass that sealed Stanwood's 40-35 playoff victory over No. 7 Lincoln on Friday in Tacoma, the Spartans' ground game again fueled their win. Stanwood racked up 435 yards on the ground, led by Ryder Bumgarner's school record 279 yards.
But the challenge was Lincoln's equally potent offense. 
The Spartans and the Abes combined for more than 900 yards of offense and 11 touchdowns. 
There were eight possessions in the first half — all ending in touchdowns — leading to a 28-28 tie at halftime. 
"We felt like we'd need to score a lot to win the game," head coach Jeff Scoma said. "Every time they scored, we answered back. I felt at some point we'd get a break defensively. I've never seen a battle like that from start to finish."
The game opened with a long Spartan drive that seemed in peril in the red zone after a penalty negated a touchdown pass to J.T. McLaughlin. But on fourth-and-17, Mascotti connected with Isaiah Hughes for a 22-yard score.
"We needed that play. It was definitely a momentum-shifter, a tone-setter," Hughes said. "From there, we knew we could outplay them."
The Spartans marched down their field at ease after that, averaging nearly 10 yards per carry as a team. 
Bumgarner had the lion's share of carries, finishing with three touchdowns of 18, 26 and 4 yards on 26 attempts. The junior now owns the school record for most yards in a season with nearly 1,427 and at least one more game to go.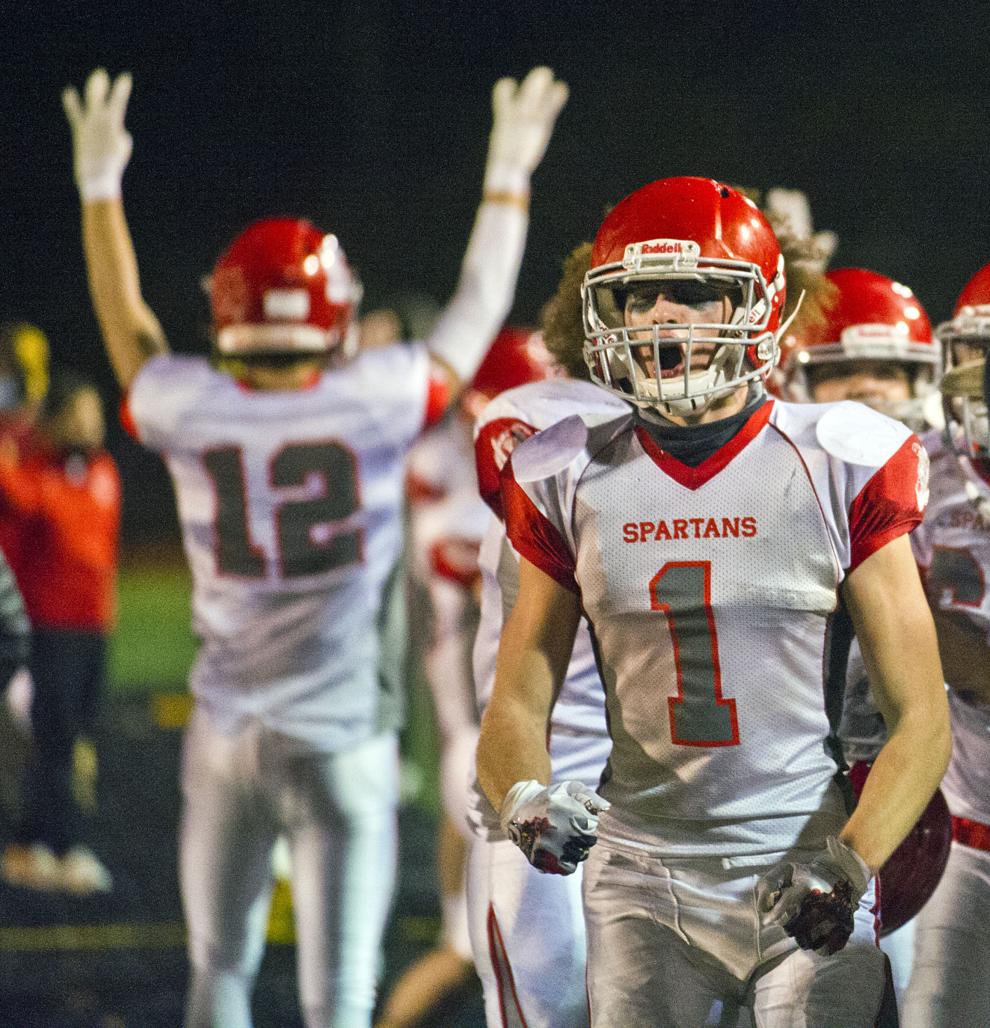 But at halftime, Scoma said the message to the team was simple: Whoever gets a stop will probably win the game. 
That stop came on the first drive of the third quarter when the Spartan defense forced the game's first — and only — punt. The punt bounced off a Spartan and Lincoln recovered, extending the drive. 
The Stanwood defense again stood tall, forcing a fourth-and-goal from the 19. 
Then Abes quarterback Gabarri Johnson's pass to the near corner of the end zone was intercepted by Bumgarner. 
It was Johnson's first pick of the season. Up to that point, the No. 10-ranked junior QB in the country had thrown 28 touchdowns and no interceptions.
"We overcame a lot of adversity in that game," Scoma said. "The punt hits a kid's helmet, just a bazaar play, and untimely penalties. But we kept battling."
Though Stanwood responded with a quick scoring drive, a missed extra point attempt opened the door for the Abes. Lincoln took advantage with a 16-play, nearly 7-minute scoring drive that gave them their first and only lead with 5:01 to play. 
The Spartans answered in three quick chunk plays, capped with a 35-yard sprint around the left side by Wiedmann.
With 3:34 remaining, the Abes took to the air on their first play of the ensuing drive.
"I had seen all game that they ran hitches. I was getting in the QB's head. We had exchanged words all game," Hughes said. "On that play, I saw that he did a hitch, and I sat on it. Then he pointed the receiver upfield, and I was just right under it."
Hughes came down with the interception on the deep pass down the right side, allowing the Spartans up to run out the final 3:25 with the help of the Mascotti-to-Loertscher fourth-down conversion. 
"What really sealed the deal was that conversion," Hughes said. 
Mascotti isn't called upon to pass frequently in the Spartans' wing-T offense. But the quarterback was 4-for-4 for 68 yards and a score in the playoff game — the first postseason trip for Stanwood since 2017.
"We don't pass it a lot in games, but we do practice it a lot every day. It pays off when it counts," Scoma said. "We know that Michael can do it whenever we need it."
The Spartans have also scored 325 points this season — the most since they tracked the record in 2004 — and won five of the last six games by a combined 126 points.
"This is what we knew this team was capable of from the start," Scoma said of the Spartans scoring a touchdown on every offensive possession except the final drive to drain the clock. "Can't ask for much more than that." 
Stanwood also got 56 yards on five carries from Carson Beckt, 49 yards on four attempts from Wiedmann and 40 yards on five carries from Noah Grina.
"I knew it was going to be a fight. But I don't think they were ready for what we did and they underestimated us," Mascotti said. "We came out firing. We wanted it more. … It was an unbelievable feeling kneeling down for the win, I can't really explain it."
Scoma said the offensive line, which is regularly undersized by about 100 pounds, deserves a lot of credit for the victory, which also ended Lincoln's eight-year streak of advancing to the round-of-16 state playoff bracket.
"It tells you how techniques and angles and skill can lead you to a win," Scoma said. "And they get better each week."
Next, the No. 15 Spartans travel to Seattle's Memorial Stadium to face No. 2 Eastside Catholic at about 7:45 p.m. Friday, Nov. 12, after the Kelso-O'Dea game, which kicks off at 5 p.m. 
The Crusaders went 7-1 on the season. Their only loss was in Week 2 to Valor Christian in Highlands Ranch, Colorado — a 41-0 defeat aired live on ESPNU. 
Eastside Catholic has advanced to the past two state championship games, winning in 2018 and 2019. There was no championship in 2020 due to the pandemic. 
"We're going to have to keep this high energy going all week," Mascotti said. "And I think we can. We're not done yet."
Final

Stanwood 40
Lincoln 35

Spartans get upset over Abes and first playoff win since 1996.

— Evan Caldwell (@Evan_SCN) November 6, 2021