Spartan wrestlers are ready to rumble.
The boys team features depth across the weight classes not seen in years, and the girls team returns several athletes from a team that finished seventh in the state last season.
"With these numbers, we have a shot to win the Wesco North title — but so do three to four other schools," boys head coach Ray Mather said. "We've never won a league title, so it's definitely something we'll be shooting for."
With 20-something wrestlers, the Spartans will be able to practice against teammates in their same weight class.
"We should have some good competition for varsity spots," Mather said. "That should help sharpen their skills."
Leading the way are a handful of seniors, including three-time state placer Riley Van Scoy.
"We're going to have some fun this year," said Van Scoy, who placed third, fourth and third at state in the past three seasons. "I want to win state and break the state pins record and go out on a high note."
The senior, who signed to wrestle at Hastings College in Nebraska, has a 126-11 record with 110 pins — two shy of tying the state record. 
"We should be better in duals and tournaments not only because of the numbers, but because our new wrestlers come with lots of experience," Van Scoy said. 
Freshmen Mason Ferguson, Keaton Mayernik and Tyler Rhue have competed at regional, national and international events as members of the Stanwood Youth Wrestling Scorpions.
"All these freshmen we have are pretty seasoned and are nice additions to the team," Mather said. "Now, they'll be wrestling kids three and four years older than them, so we're looking for a lot of learning experiences out of them early in the season."
Four-year wrestler Chris Tabor said the large team has been fun and motivating.
"You have more teammates to test your strength against," said Tabor, who spent the offseason dropping weight and gaining muscle with a weightlifting regiment. "I want to gain more pins that I had last year, and make it through league."
Fellow four-year wrestler Ben Wemett also eyes making through league and deeper into the postseason.
"I've been training more outside of practice," the senior said. "We made a big jump last season, and now we're excited to hit the mats and take the next step."
The Spartan girls are also hoping to take the next step in their growing program.
"We want to improve on what we did last year," said head coach Todd Freeman of the team's seventh-place state finish and third-place district tournament finish. "I'm not worried about wins and losses during the season. I'm just focused on improving each time out so we're ready for the postseason."
The program has taken large strides the past few years, growing from a handful of girls who wrestled JV boys every once in a while. Nationwide, the sport is one of the fastest growing across the nation. In 1990, there were 112 girls who participated in high school wrestling in the U.S. By 2017, 14,587 girls were wrestling in high school, according to the National Wrestling Coaches Association.
Returning state champion Chanel Siva said she hopes more girls join the ranks.
"I just love the sport, and I want to be a part of the growth of it and help shape the history of how it grows," said the senior who plans to wrestle at the collegiate level next year. "I want to be able to go to the next level, represent the sport well and maybe someone sees me and they say 'I can do that' and that seed grows."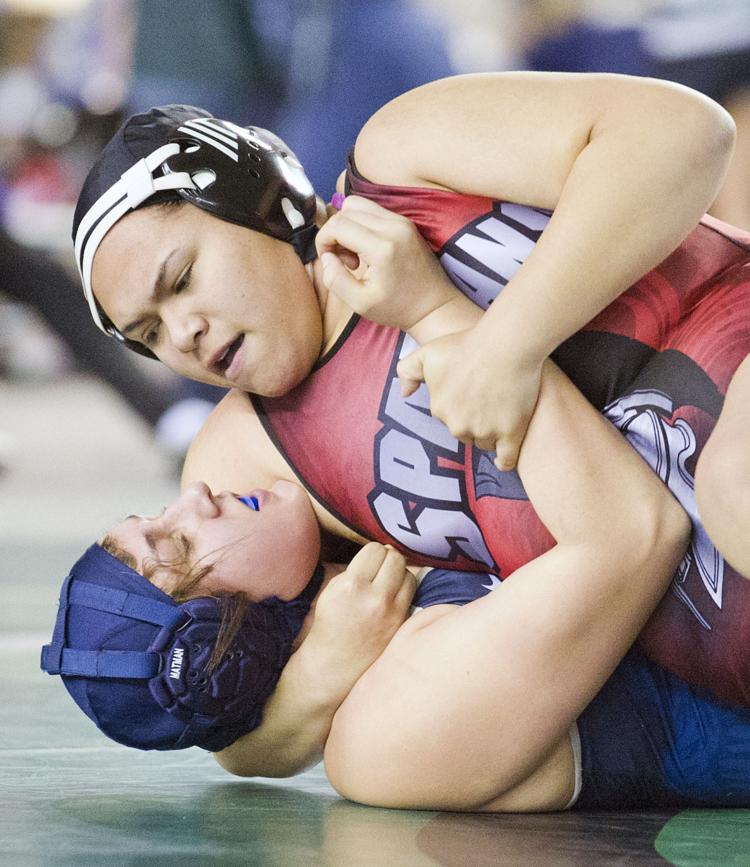 The Spartans are capable of improving from last year, Siva said. 
"We're further ahead of where we were at this point last year," she said. "The girls have more advanced moves, they're quicker. We're determined, and we're working at it pretty hard."
The effort seems to be paying off. The Spartans boast a handful of new faces, but there are also about eight seventh-graders and eight eighth-graders in the middle school program waiting in the wings.
"In three to four years we will be filling a whole team — that's the hope," Freeman said. 
In the meantime, the Spartans are hitting the ground running and aim to pick up speed as the season progresses.
"I'm really looking forward to wrestling this year," said Siva, who added that she plans to deploy more techniques from her arsenal during the season. "We're going to have some fun."
Stanwood Girls Wrestling
Head coach: Todd Freeman, 3rd season
Last season: 3rd at Regionals, 7th at State; Chanel Siva 1st place at State, Autumn Ortega 4th place at State
Returners: Chanel Siva, 12; Anna Schander, 12; Autumn Ortega, 11; Aleena Wiegand, 11; Jaylin Hass, 11; Aliya Hammons, 10; Taylor Eldridge, 12.
Newcomers: Hailey Campbell, 9; Leila Leyva, 9; Sydney Wiegand, 9; Hannah Cornell, 11
What to watch for: With more girls in a variety of weigh classes, expect the Spartans to be more competitive in tournaments — which are plentiful in this year's schedule. The new wrestlers are learning quick and should "get some important wins by end of season," head coach Todd Freeman said. 
Stanwood Boys Wrestling
Head coach: Ray Mather, 13th season (25 years with the program)
Last season: 13-3 overall, tied for 3rd in league, 13th in state
Returners: Riley Van Scoy, Isaac Ortega, Will Inghram, Cameron O'neill, Magnus Cairus, Anthony Fitzgibbons, Ben Pederson, Josh San Cartier, Kameron Scott, Chris Tabor, Ben Wemett, Dustin Campbell.
Newcomers: Tyler Rhue, Bryan Roodzant, Keaton Mayernik, Mason Ferguson, Carter Kinney, Ryder Bumgarner, Evan Agledal, Caden Lukehart, Lane Ovenell, Lous Robledo, Jordan Wilson.
What to look for: With plenty of experienced upperclassmen to help lead a team with a bevy of talented freshmen, look for the Spartans to make some noise in league — and compete for the program's first Wesco title. The freshmen can contribute right off the bat to help reach that goal, head coach Ray Mather said. Meanwhile, the upperclassmen aim to improve on their places at state.