While Stanwood's historic playoff run ended Friday, head coach Jeff Scoma sees it as a beginning. 
"We had so many firsts and so many building blocks," said Scoma, who was hired in June. "This team broke through and established the baseline, the minimum, for what we expect here every year. The future is bright." 
The No. 15 Spartans season ended in a 41-6 loss to the No. 2 Eastside Catholic Crusaders in the first round of the 3A state playoffs at Seattle Memorial Stadium. 
Stanwood couldn't get their wing-T offense going against the larger Eastside Catholic team, two-time defending state champions. The Spartans could only cobble together 23 rushing yards on 28 carries. Michael Mascotti connected on 6 of 7 passes for 53 yards through the air.
Otto Wiedmann returned an interception 74 yards for the Spartans' lone score.
Meanwhile, the Crusaders scored through the air, on the ground, via a punt return and with a fumble recovery to build an insurmountable lead. They now face No. 10 Mt. Spokane, who beat No. 7 Arlington.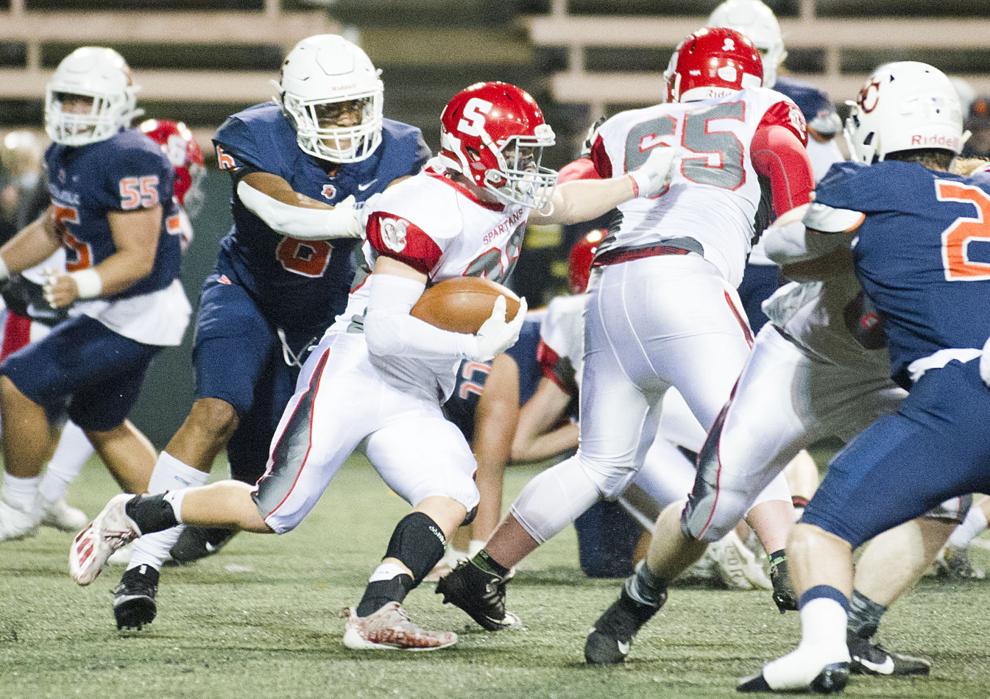 "We just struggled to consistently move the ball," Scoma said. "I think we rose to the level of a top 10 team, but we faced the No. 2 team. There's a gap between 2 and 10. Now we know. It shows us where we aspire to go."
After starting the season 1-3, Stanwood finished the season 6-5 — the first winning record since 2006. 
"We've come a long way since Kamiak," Scoma said of the Week 1 loss. "I'm really proud of the kids. When they reflect back on it, they should be extremely proud of their accomplishments." 
The Spartans return the vast majority of their starters next season, including running back Ryder Bumgarner, who set a school record with 279 yards rushing against Lincoln. Bumgarner also now holds the school record for most rushing yards in a season.
"I can honestly say that we improved every week, even against Eastside Catholic. That experience is going to be positive," Scoma said. 
"The seniors had kind of got caught in the COVID crossfire the past few years and never really had that complete high school football experience," Scoma said. "Thank goodness we were able to get all the games in." 
Next, the team starts its offseason conditioning program as it works to harness the momentum from this season.
"I think we can keep building on this," Scoma said. "Friday home games can be a huge event for the community. Pack the stands. We're excited for the future."