The Washington Interscholastic Activities Association announced dramatic changes Tuesday night to high school sports for the upcoming school year — and cautioned that fans, coaches and players should brace for more changes in a year dominated by the COVID-19 pandemic.
The governing body announced the upcoming school year will be divided into four seasons instead of the usual three, and fall sports designated "moderate" or "high" risk — including football, volleyball, girls' soccer and small-school boys' soccer — will be played in the spring.
Fall sports deemed "low" risk, such as cross-country, may be permitted in the fall. The WIAA executive board is expected to determine next week benchmarks for allowing those sports. It cautioned those sports may also move to the spring.
According to the WIAA's return-to-play guidance, sports deemed "low risk" can return under Phase 3 and "moderate risk" can return in Phase 4. High-risk sports such as football and wrestling were not included in the WIAA's guidance.
Officials say they are also exploring separately whether girls swimming can be held in the fall, since that sport's competitions are held indoors. That determination will be made after further consultation with the state Department of Health. 
The tentative schedule released Tuesday proposes four seasons: Season 1 would include cross country, tennis and golf for schools that normally hold those in the fall, and would run from early September to early November; Season 2 would include traditional winter sports such as basketball and wrestling, and would run from early January to early March; Season 3 would include the moderate- and high-risk sports pushed back from fall, such as football, and would run from early March to early May; and Season 4 would include the tradition spring sports such as baseball, softball and track and field and would run from late April to late June. 
Stanwood High Athletic Director Tom Wilfong said the schedule creates plenty of questions that still need answers.
"Coaches are concerned because the seasons can overlap up to two weeks," Wilfong said. "So, for example, at the end of season two — basketball, wrestling, swim — a student will need to choose to finish the season or start season three. Is a wrestler, who maybe has been cutting weight, going to end the season early to start football? And season four, which overlaps with season 3, goes through June, well after the last day of school." 
WIAA Executive Director Mick Hoffman said at a news conference Tuesday night that everyone will need to be flexible, given the safety and logistical factors brought into play by the pandemic that wiped out all high school sports last spring. He said even the dates of the seasons are tentative. 
"When you're looking at dates, those are definitely written in pencil," he said.
Greg Whitmore, the WIAA Executive Board president, said of the calendar, "It by no means is set in stone."
WIAA officials said they considered a range of options, including not scheduling any sports to begin earlier than January.
There are still many details to be worked out, such as what postseason competition may look like.
Hoffman raised the possibility of "regional" state championships held in various parts of the state and resulting in several champions in each classification.
Also, the Washington Officials Association told the WIAA that 30% of officials surveyed do not feel comfortable being involved in athletics right now, exacerbating a previously existing shortage of officials.
The WIAA is working in consultation with several other organizations and agencies to determine how sports can safely be held. Included are the National Federation of High Schools, the state Department of Health and the office of Gov. Jay Inslee, as well as various committees made up of coaches, students, local health professionals and others.
Many other questions remain, Wilfong said, including transportation, scheduling and whether or not sports will be allowed if Snohomish County isn't in Phase 3. 
"Even if we get to Phase 3, gatherings are limited to 10, so how will that work?" said Wilfong, who is working with Wesco and district leaders to work out some of the issues. "And even if a sport like cross county is allowed and you stagger-start the runners, it's a race — they'll be passing other athletes at some point. It's good that the WIAA is getting things in place, but when you really start to think through some of these scenarios, there are going to be complications."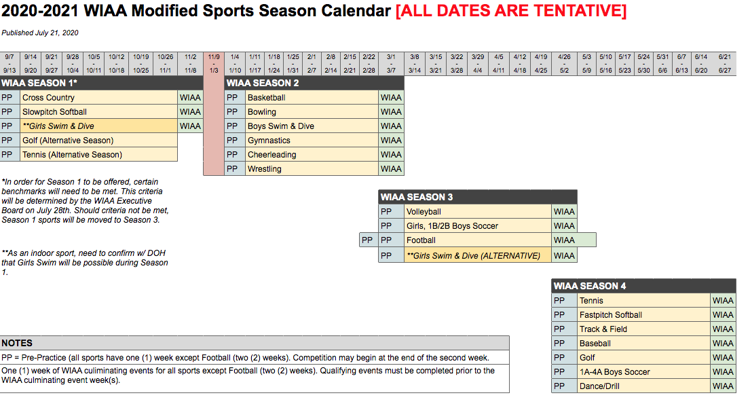 WIAA Executive Director Mick Hoffman and Executive Board President Greg Whitmore speak to the decision of modifying the 2020-21 sports season calendar.

Watch the full press conference here:https://t.co/82A8WotY3m

— WIAA (@wiaawa) July 22, 2020