With local COVID-19 case rates at or near record highs, area health officials are urging people to get a vaccine, wear masks in public spaces and avoid large gatherings.
They are also ramping up local vaccine clinics to help reach more people as the highly contagious delta variant is proving a challenge.
"The delta strain is a game changer in multiple ways," Snohomish County health officer Dr. Chris Spitters said in a statement.
While vaccines are proving less effective against the delta variant, people who are fully vaccinated are largely being spared serious COVID complications that require hospital care, Spitters said.
Snohomish County Executive Dave Somers said choosing to be vaccinated remains the right decision.
"Not being vaccinated means that you have a higher risk of serious illness or death," Somers said.
Somers said that while local COVID case rates and hospitalizations are climbing, he doesn't anticipate a return to restrictions on business occupancy at this time.
"Stay tuned. Who knows? This current spike in new cases is troubling," Somers said.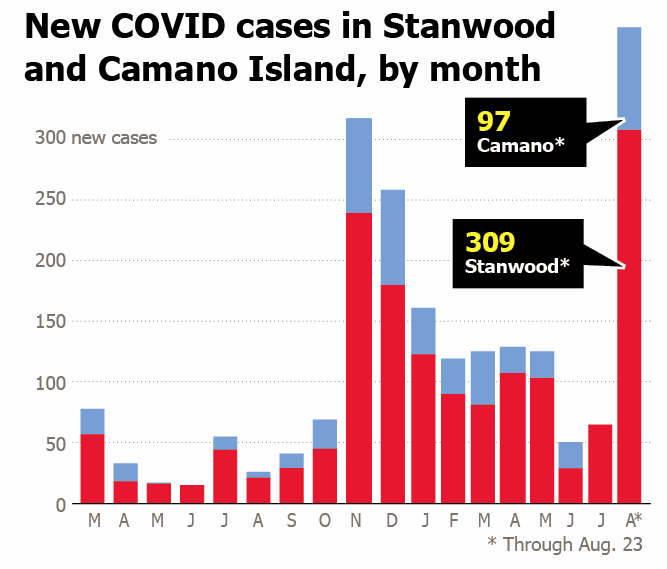 In the Stanwood ZIP code, there were 129 new COVID-19 cases reported last week and 309 so far in August alone — already the most in a single month, according to the Snohomish Health District.
Snohomish County saw its two-week COVID rate increase for the eighth straight week to 442 new cases per 100,000 people, the second-highest mark on record. There were 1,714 new cases in the county last week.
July had twice as many confirmed cases from June — 2,670 cases compared to 1,322 in June. Of those, nearly 80% were among unvaccinated individuals, according to the Snohomish Health District. Meanwhile, more than 4,500 cases were reported during the first three weeks of August.
"This rapid increase in cases over the past six weeks reflects a combination of a more contagious delta strain, reduced mask wearing, increased social and larger gatherings, and an incomplete vaccination coverage," Spitters said.
The delta strain is causing people to get sick quicker, making it easier to spread and to infect more people than previous strains, he said.
This is a strain that has become very efficient at moving through communities at lightning speed, Spitters added.
In its most recent statewide transmission report, the Washington state Department of Health noted that "…if the entire population were to experience the rates of hospitalizations currently seen in the unvaccinated, the hospital system would be completely overwhelmed."
"From January through July, only four fully vaccinated residents died from COVID-19," Spitters said. "These vaccines are doing what they were made to do, and that's to save lives."
As of Monday, 85 county residents were hospitalized due to COVID, and intensive care units in the county were at 90% capacity, Spitters said. There were 11 on ventilators.
In Island County, the case rate was at 281.4 infections per 100,000 residents from Aug. 6-19, according Island County Public Health.
Camano recorded 29 new cases last week, the fifthstraight week of double-digit cases after 19 weeks of new cases in the single-digits, according to Island County Public Health.
Island County is offering the Homebound program, which is available to provide on-site COVID vaccinations to those who are unable to leave their home or small group setting. Services are provided at no cost. To schedule an appointment or for any questions, call 360-678-2301 or email s.branch@islandcountywa.gov.
The county is also planning a mobile vaccination clinic from 3-6 p.m. Tuesday, Sept. 14, at the Camano Farmers Market at the Camano Commons, 848 N. Sunrise Blvd. The clinic is free and open to the public, offering all three vaccines, Pfizer, Moderna and Johnson & Johnson. No appointment, ID, or insurance necessary.
On Monday, the U.S. gave full approval to Pfizer's COVID-19 vaccine, and health officials hope the move will boost the public's confidence in the shots. The move also opens the way for more universities, companies and local governments to make vaccinations mandatory.
We're up to 442 new COVID cases per 100,000 population over the last 14-day period. The spread of COVID-19 in our community has only been this high once before during the pandemic, near the end of 2020. pic.twitter.com/s8rZ9VH1hI

— SnoHD (@SnoHD) August 23, 2021
We're up to 442 new COVID cases per 100,000 population over the last 14-day period. The spread of COVID-19 in our community has only been this high once before during the pandemic, near the end of 2020. pic.twitter.com/s8rZ9VH1hI

— SnoHD (@SnoHD) August 23, 2021